This is where no Google Ads account manager wants to be: it is a normal beautiful day until you sign in to your account – just hoping to go on with your work – then you see it has been suspended! After a few minutes of panic, you start looking for answers.
In this post, you will learn the possible causes of your account suspension and what you can do to fix it – as soon as possible. Read on.
What happens when advertisers violate Google's policies
In order to ensure a good experience for users, all advertisers must comply with all applicable laws and regulations in addition to the Google Ads policies. Ads, extensions, destination URLs, and other content that violate any of Google's policies can be blocked.
Ads or ad extensions can be disapproved
Ads and ad extensions that don't comply with Google Ads policies will be disapproved. Disapproved ads won't run until the violation is fixed and the ad is reviewed again.
Your account can be suspended
Google Ads accounts may be suspended if violations of Google's policies or violations of the Terms and Conditions are found.
If the system detects a serious violation your account will be suspended immediately and without any warning. A serious violation of the Google Ads policies is one that is unlawful or poses a significant threat to users or to Google's digital advertising platform as a whole.
These violations tell Google that the advertiser's business does not follow the policies or simply that a single violation of that kind is so severe that Google is just not able to risk any future exposure to users. They are referred to as egregious violations.
Because egregious violations result in immediate account suspension, Google limits these to cases when such action is the only way to prevent illegal activity and/or user harm.
For all other violations that lead to account suspension, Google will send you a warning to describe the kind of policy violation that has taken place and will recommend actions that can be taken in order to fix the problem. This notification is sent at least 7 days before your account gets suspended.
If there are repeated violations of the same policy, Google issues strikes to your Google Ads account and penalties progressively increase with each subsequent strike, ultimately leading up to full account suspension. You will get a maximum of 3 strikes per policy. You can read more about enforcement procedures for repeat violations here.
If your account gets suspended, all ads will stop running. Any related accounts – e.g. accounts using the same payment method – will also be suspended, and any new accounts you create will be automatically suspended. You can read more about suspended accounts here.
Remarketing lists can be disabled
All remarketing lists that don't comply with the Personalized Advertising Policy can be disabled. These lists cannot be used with campaigns anymore, and new users won't be added to them. These and other restrictions can apply to both individual web pages and entire websites or apps.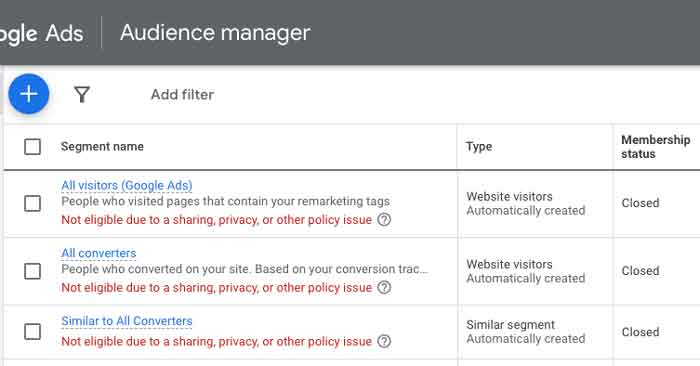 Compliance review
Google can review your business for compliance with the Customer Match policy at any time. If you are contacted by Google and requested to send information related to compliance, you'll have to answer them as soon as you can and quickly take any action needed to fix the problem. If you run a manager account, Google might also contact your managed accounts to verify compliance.
About Google Ads account suspensions
Google takes legal requirements and user safety very seriously, so any advertiser that puts users, Google, or Google's partners at risk can have their account suspended.
When your account is suspended you will receive an in-account notification and an email.
You should use Google's account troubleshooter below to check your account status or suspensions to see what you can do.
Fix your suspended Google Ads account
Things you should know first
Suspended accounts cannot run any ads. Advertisers will still be able to access their suspended accounts and reports.
All accounts related to the suspended account (e.g. accounts using the same email address or payment methods, or even accounts linked to the same Manager Account) can also be suspended.
All Merchant Center accounts linked to the suspended Google Ads accounts can also be suspended.
Any new accounts that the advertiser tries to create can be suspended.
Why Google suspends accounts
Accounts are suspended when violations of Google's policies or of the Terms & Conditions are found.
There are also other reasons a Google Ads account can be suspended:
1. Google Ads Policy
You can read all about suspension due to violations of Google Ads policy here.
2. Ads Grant Policy
Your Google Ads account can be suspended if it doesn't comply with Google's Ad Grants policy.
Read more about it here.
3. Age requirements
If you violate the Age Requirements on Google accounts, your account will be suspended.
The age Google uses as a reference is the one you entered when you created the Google account that's associated with your Google Ads account. You should always provide your own age – not the age of your company – when you create a new Google account.
Read more about Age Requirements here.
4. Billing and payment problems
As for payments and billing, your Google Ads account can be suspended for one of the reasons below:
Unpaid balance: if your Google Ads account has unpaid balances (one or multiple), it can be temporarily suspended.
Promotional code abuse: your account may be suspended if you try to sell promotional codes or use more than one promotional code on an account. See the country-specific terms and conditions for promotional codes here.
Chargeback request: if you tell your bank or credit card company to reverse a charge that was paid against a legitimate Google Ads balance, your account can be suspended.
Suspicious activity: if suspicious or fraudulent payment activity is detected on your account, Google can restrict the amount it can spend or suspend the account.
5. Unauthorized activity
If Google sees that an unauthorized user is trying to access your Google Ads account, it will be temporarily suspended for protection. Read this documentation to keep your account secure.
Fix your suspended Google Ads account